Wondering what gift(s) to get that hockey fan or player in your life? We've got you covered.
Art
These gifts are a great way to support small business and artists who are part of the hockey community.
Woodblock Prints by Celia Connaire. All of her prints are handmade limited edition originals. Find this beauty ($40 USD) and other amazing prints here:
Stuff for that Travis Konecny superfan in your life. Stocking stuffer anyone? Go to delayedcall on Etsy:
Fabulous hockey stickers. Love a goalie? Check out LixxieB Art on Etsy:
Help a hockey lover make art.  The photographic kind. Pro photographer Kate Frese, who covers the Flyers is offering hockey photography lessons: group lessons in the Philadelphia area ($50 USD) and remote one-on-one lessons for those further away ($150+). Details here.
Apparel
We designed some shirts y'all. Premium unisex tees in a bunch of colors. ($24.99 USD)
The Hockey Dad Shirt. If you're at the rink, you'll probably see some moms with hockey mom swag. We do. But we NEVER see people sporting hockey dad stuff and figured it was a supply side issue, so here you go.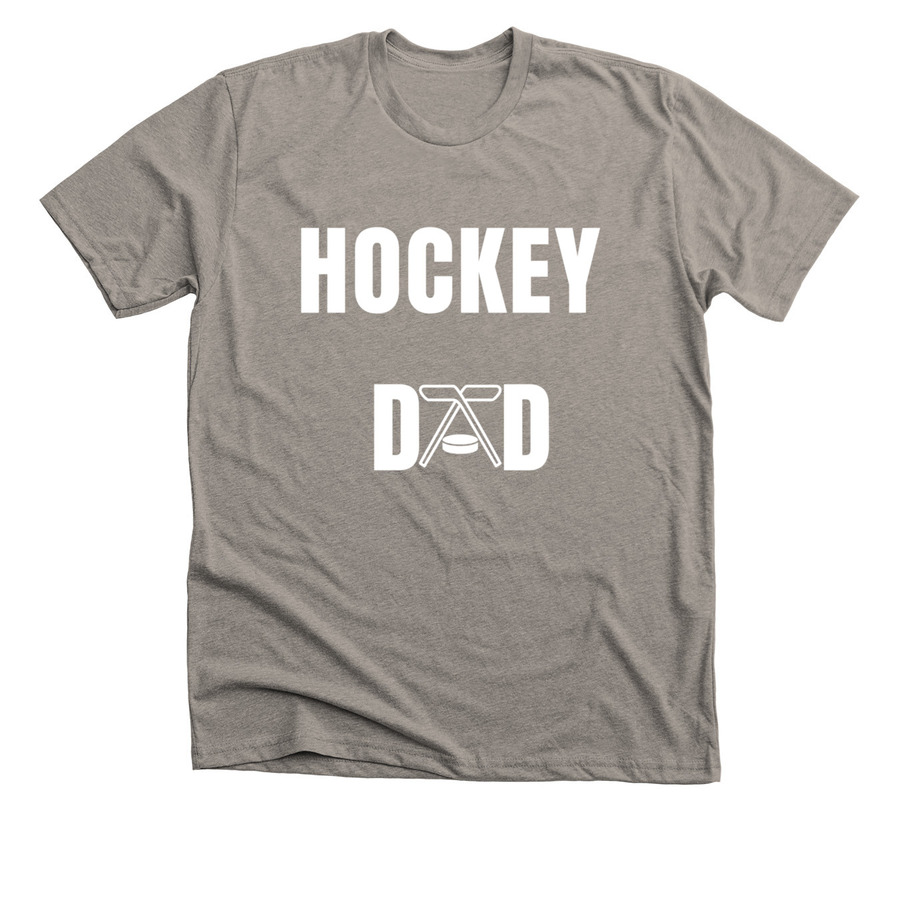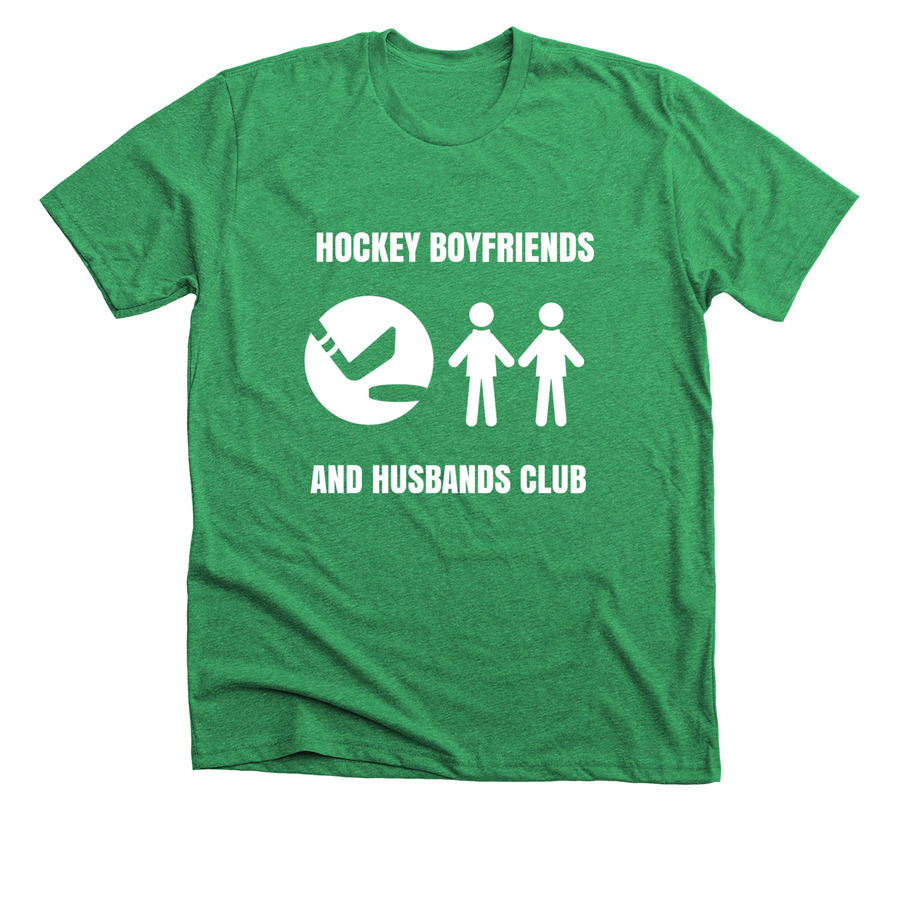 Here are some other great apparel ideas!
Hayley Wickenheiser Hockey Hall of Fame Induction Tee.  If you know someone who is as excited as we are that Hayley Wickenheiser got inducted into the Hockey Hall of Fame, this is just the shirt for them ($22.95 CAD).
Bauer Hockey Women's Movement Never Stops T-Shirt.  All profits go to Play Like a Girl, a 501(c)(3) non-profit organization is "committed to helping girls experience the joy of sport and physical activity."

Amanda Kessel Gongshow Collection.  Wanna buy a gift for someone who knows who the Best Kessel is? It's Amanda, duh.

NWHL replica jerseys ($120 USD).  These replica jerseys not only allow the wearer to rep their fave NWHLers, but to help financially support them. Players receive 15% of all profits from sales of merch with their names on it. Order ASAP because orders don't ship until 12 business days after purchase.
For the Player or Fan Who Cares about Making Hockey Inclusive
Black Girl Hockey Club Swag. ICYMI, here is Black Girl Hockey Club's mission statement:  "The mission of Black Girl Hockey Club is to inspire and sustain passion for the game of hockey within the Black community, specifically with our mothers, sisters, daughters and friends." Help someone show support for this amazing and essential organization by gifting them some BGHC apparel, stickers, bags, towels, or pouches sporting the BGHC logo (available in different color schemes). Or, make a gift donation in their name!
Players Against Hate Merch. A hockey mom from our home rink founded Players Against Hate to support a player who was called a racial slur during a game. The mission of Players Against Hate is "to increase awareness and stop racism and name-calling by youth athletes, their teams and coaches, their families, and spectators." Rinks are, of course, cold! Warm yourself and make others feel figuratively warmer with this nice anti-racist blanket ($28.99 USD). Not into blankets? There are other awesome apparel and accessory options to choose from in the shop.
Pride Tape.  Gotta tape those blades and handles. So why not multi-task? Help a player tape their sticks, show that they support inclusion in hockey, and support a great cause. Shopping for someone who doesn't play hockey? They can still use this fabulous tape for lots of other stuff. And, proceeds from Pride Tape purchases support LGBTQ youth outreach initiatives including You Can Play and the Institute for Sexual Minority Studies and Services. Go big and buy a 5-roll pack for $33.99 USD.
For the Player
Shin pad/sock tape.  We can't tell you how fast hockey players go through this stuff. We use this to keep our socks from falling down and our shin pads in place since the velcro is worn and we don't want to get new ones. For reasons. This is our fave brand.
Gear drying rack.  TBH if you live with a hockey player, this is as much of a gift for you as it is for them if you have to deal with sweaty gear hanging from random places, or worse — sweaty smelly gear zipped in a bag that's stinking up the joint. You can get it for a clean $44.99 USD here.
We all love to shoot. Here's some paraphernalia to help:
Books
OFFSIDE: – A Memoir – Challenges Faced by Women in Hockey by Rhonda Leeman Taylor & Denbeigh Whitmarsh (Kindle and paperback).  This is an amazing memoir chronicling the playing, coaching, and hockey administration career of Rhonda Leeman Taylor, who revived women's hockey in Canada after the 1930s and organized the first ever women's national hockey championship. We were privileged to interview her for our podcast!
Black Ice: The Lost History of the Colored Hockey League of the Maritimes, 1895-1925 by George & Darril Fosty (Kindle, hardcover, and paperback).  We learned about this book from listening to the History of Hockey Podcast, which did a multi-part segment on the history of the aforementioned league. We can't begin to explain how valuable this book is in relaying black contributions to hockey and the history of the  league and its players.
The Big League Saga by Mer Brebner (Kindle).  Know someone looking for their hockey fiction fix? How about this two-book (so far) series, which follows a very busy woman who happens to catch the eye of an NHL star.  We're lucky enough to count the author, a hockey savant, our Twitter friend! Get both books (Welcome to the Big League and Saints and Sinners) here!
Black Ice: The Val James Story by Valmore James & John Gallagher (Kindle, audiobook, hardcover, and paperback).  This is the story of the first African-American NHLer and describes his playing career and the racism he endured as he rose through the hockey ranks and made it to the NHL.
US Women's Hockey Team (Olympic Stars) by Anthony K. Hewson (library binding).  Looking for book for a younger hockey player or fan?  This one came highly recommended from a mom/hockey blogger/podcaster/former college player whose kids were able to connect with the book.  Find her on Twitter @Lindsayg16 and online at http://lakerfanhockey.blogspot.com/.
For the Coach/Writer/Fanatic
Hockey Tracker Notebook ($25 AUD). Here's a handy dandy place to track what happens during games. And it's easy on the eyes too.
For the Hockey Lover Minimalist Who Doesn't Want More Stuff
Burn It All Down Patreon subscription.  Know someone who needs a feminist sports podcast in their life? Get them a Patreon subscription to BIAD to unlock special episodes and financially support this amazing show, which features kick-ass scary smart women who are passionate about sports and equality. Memberships are available for as little as $2 per month.
Hockey Tickets
The USA/Canada women's hockey Rivalry Series is just around the corner! This rivalry is one of the best in hockey. Dates:  12/14 (Hartford, CT); 12/17 (Moncton, N.B.); 2/3 (Victoria, B.C.); 2/5 (Vancouver, B.C.); 2/8 (Anaheim, CA). Purchase tickets here.
PWHPA Dream Gap Tour Secret Women's Hockey Showcase.  It's happening 1/11 to 1/12 in Toronto! Get your tickets to watch some of the best women's hockey players in the world face off against each other in their barnstorming tour. Not only is this great hockey to watch, it supports the players sitting out of pro hockey this year in their fight for a league that pays a living wage. Don't think that your gift recipient can make it to the showcase? Buy a virtual ticket to send some girls to the tournament to be inspired (option shown when you click on game ticket options) or make a donation to the PWHPA in their name!
And if You're Planning on Waiting til the Last Minute…
Dunkin Donuts Gift Card.  Dunkin has been a huge supporter of women's hockey, sponsoring a stop on the PWHPA's Dream Gap Tour and the NWHL. Just make sure you let Dunkin' know that you went out of your way to buy something because of their support for woho.
A Case of Bud.  Especially if it's for a beer league player. Especially if they're in Canada. There's a reason it's called beer league. Chances are, it'll be their time to supply the post-game (or during-game or pre-game) beer and you can save them a trip to the store. Why Bud? Budweiser Canada stepped up as a huge supporter of the PWHPA to help create a sustainable pro women's hockey league.